Vaccine Business Unit, GSK
U.S. Vaccines is a team whose passion for their purpose—protecting millions from preventable diseases—couldn't be clearer. When they asked us to design a three-day event to give them the skill and will to win in 2020, we knew nothing but outstanding creative and flawless execution would do.

Establishing a clear storyline
From the outset, we collaborated with the VBU team to establish a clear theme that would build over the three days, taking delegates on a journey from understanding to empowerment and action.
When we arrived on 'Grow with Purpose', it felt like the perfect fit—a clear call to action inviting everyone to raise their expectations around what each of us can achieve, as individuals and as a business.
With this in mind, we set to work constructing powerful general sessions that brought science and innovation to life with a little inspiration on day one, and then focused the team squarely on commercial execution and sales excellence on day two.
When creating big group sessions we always strive to create memorable moments that have real strategic value. Every touchpoint adds something, from beautiful visuals and thoughtful talking points right through to dramatic and emotive videos and our surprise guests. We typically set the bar high, and then reach it.
A healthy dose of foreshadowing and subtle links helped us plant an important message: 'it all starts with one'. Gradually this message grew and came together in a crescendo during the closing keynote when Mick Ebling (Founder of Not Impossible Labs) talked about his mission to tackle some of the world's problems by helping one to help many.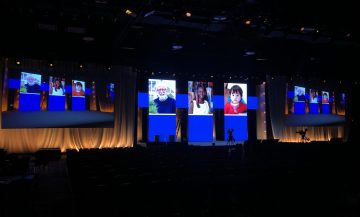 All our speakers were carefully hand selected and coached to deliver the full power of their stories. When we saw multiple standing ovations for the likes of Ethan Linderberger (the high school senior who got vaccinated against his parent's anti-vax wishes), a Meningitis B survivor group, and the VBU's own senior leadership team, we knew we'd got it right.
"Cubist was a great partner for our national vaccines meeting this year. They understood our business needs and used their meeting expertise to create an impactful meeting – the best one we've ever had! I value their creativity, flexibility and ability to meet our specific business needs. I trust them to deliver the results we need."
Judy Stewart, SVP, U.S. Vaccines
Creating a scenic experience
Live events are not just about content, the physical environment can also be carefully constructed to enhance the story. It's part of the overall strategy—from our staging design using dynamic LED panel video and lighting changes, to unexpected guests, to an awards ceremony runway and creative breakouts—there was always something new to see and experience.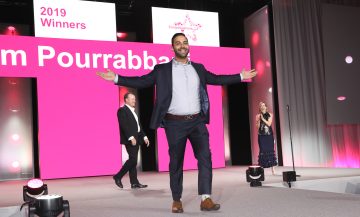 Preparation, planning and magic
On day three, one of our breakout hosts, the magician and NYT cross puzzle creator, David Kwong summed up our approach to planning perfectly, 'If it looks like magic, it's more likely to be just a lot of preparation.' Hosting nearly a thousand people for three days and managing hundreds of crew is no small feat—but thanks to great partnerships, a dedicated project manager, more than a few back up plans and many, many, master spreadsheets, we always make it seamless—or at least it seems that way from the outside.

We love events
This kind of challenge is where our team really shines. From a strategic standpoint we've been creating large scale Corporate Executive Team events for GSK since the 90s, and today we continue to use our unparalleled knowledge of the company to drive the strategy forward.
From a practical perspective, our graphics team know the GSK brand inside out, our writer worked in house for GSK internal comms for more than five years, and our highly experienced project manager excels at making the organization process seamless for both sides.
We'd like to thank GSK's Vaccines Business Unit for giving us this opportunity, taking a chance on more than one crazy idea and being superstars on and off stage!